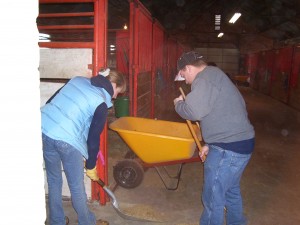 CSC's program consists of theory classes that range from anatomy and nutrition to marketing and management as well as daily hands on experience concentrating on the starting of two year olds, leading up to a specialized area of your choice. The Associates of Science degree and the Associates of Applied Science degree are both offered in this two-year program. Graduates have the opportunity to be employed as assistant trainers, breeders, managers, or to go on to a major university.
The first year a short session of western equitation will precede a period of starting unbroke colts. This period will consist of three sessions in which the student will receive a different colt each session. All the horses utilized by the students are owned by trainers and breeders from this area and throughout the United States. During this time, the student is asked to advance his or her ability as experience is gained.
The first semester of the sophomore year begins with four weeks of English equitation, followed by twelve weeks of specialized training in areas such as roping, cutting, or reining. The second semester the student will be given the opportunity to start another colt prior to an externship. The externship is an opportunity to work with a trainer or breeder that fits the interests and experience of the student. For eight weeks the student will be working and riding alongside the trainer or breeder to learn from as well as benefit his or her operation.
The program at Connors teaches responsibility, horsemanship, and many other skills needed in the equine field. The student will also have the opportunity to communicate with owners of horses in the program.