Despite the cold weather change on Saturday, October 6, the 25thAnnual Cow Chip Days in Warner proved to be another success for the city and the college. Over 200 participants showed up in their running gear to take part in the first 5K Bull Run sponsored by Connors State College (CSC). Runners started in the parking lot between Melvin Self and the business office and ran around the road by the baseball field and continued on around the perimeter of campus before heading west past the bull test facility—hints the "bull run." Participants were replenished with bottled water and bananas at the conclusion of the race. The 5k Bull Run was just the beginning of the festivities that city and college officials had planned. The crowd migrated to down town Warner in preparation of the parade to come through. High school sports teams, local officials, Connors State College and many other groups participated in this year's parade. The CSC float was filled with students and was pulled by the farm tractor. At the closing of the parade, Connors State College was declared the winner. This year's float was built by Student Activities Coordinator, Dare Chronister as well as many student group participants.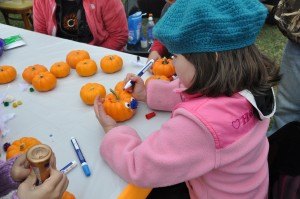 The celebration continued over at Rogers Park with pony rides, popcorn stands, decorate a pumpkin station, sponsored by CSC Presidents Leadership Class, and numerous other student and organization sponsored stands. Warner citizens also welcomed home a special guest, Warner native and Connors Alum, Cassie Mitchell, Ph.D. Mitchell's most recent
accomplishment included her opportunity to compete in the 2012 Paralympics in London. She competed in the T52 100m, T52 200m and the f51-52-3 Discus. Mitchell placed fourth in all her events. The City of Warner honored her accomplishments by renaming a street after her, where they have also
placed "hometown hero" banners on the light poles of the new "Cassie Mitchell Way".