Eleven years after 9/11, Connors State College continues to remember and honor that tragic day. The campus event was organized by Veterans Upward Bound Director, Lt. Col. J.W. Sanders, USMC (Retired), who said "With this ceremony, people will know we remember." The program included, the singing of our National Anthem by Muskogee High School student, Arianna Klassen, the hoisting of the American Flag by U.S. Navy & Marine Corps Color Guard , The Pledge of Allegiance led by Lt. Col. J.W. Sanders, a prayer by Chaplin Durhan, VA Medical Center, recognition of honorable personnel (Firemen, Policemen, EMS and Armed Forces), welcoming remarks by CSC Vice President of Academic Affairs, Dr. Ron Ramming, remarks by State Representative, Jerry McPeak, and before TAPS clsoed the ceremony, Arianna Klassen sang a God Bless America.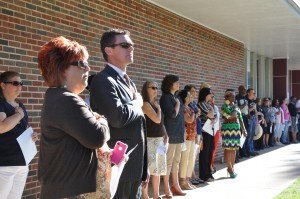 State Representative Jerry Mcpeak spoke about remembering hero's and said,  "It's a long-term deal, being a hero. When you do things the good Lord gave you to do – you're a hero. Moms, dads, staff, faculty, you are all heroes here today."
"The firemen and police who went back up instead of down … regular citizens who were right there – certainly are all heroes."
"Look at the flag. Listen to Taps being played. Watch the rifle squad as they give a tribute… If you don't get goose bumps from any of these things, you need to check and see if you have blood in your veins."
Students, faculty, staff and bystanders all stopped to listen to the program and put their hand over their heart during the National Anthem and Pledge of Allegiance in honor of our great nation.  Take the time with Connors State College to remember and thank all those who have sacrificed their lives for the freedom of today.