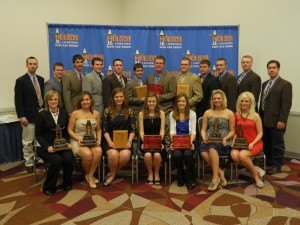 The Connors State College Livestock Judging team concluded a successful year at the Houston Livestock Show and Rodeo on March 13.  Competing against 22 other junior colleges, Connors finished 2nd overall.  Along the way to their Reserve Champion honors, the team of Laine Martin, Claire Martin, Jordan Richburg, Blake Davis, Olivia Foster, and Hattie Anastasio was 2nd in the Cattle division, 3rd in Sheep/Goats, and 4th in Swine judging.  Individually, Laine Martin was 9th High Overall while Olivia, Jordan, Claire, and Blake all finished in the top 25 out of 124 total contestants.  L. Martin was also in the top 10 of Sheep, Swine, and Reasons, while Foster was 8th in Cattle and C. Martin 3rd in Placings.  In the Alternates Division over 50 students competed. Connors State College members Lindsay Bowman was 2nd overall and Cameron Curry 9th.
At the awards banquet this year's All-American Team was announced.  Fifteen students are selected out of more than 200 sophomores that compete all year for their respective schools.  The selection is based on not only their performance in judging at all of the national contests during the year, but also takes into account the students' academic achievements.  This year, Connors had three earn this great honor: Jordan Richburg, Claire Martin, and Laine Martin.  This is a great achievement for CSC students.
Connors ends the year being the only team in the country to finish in the top 5 at every contest they competed in, quite a feat considering the level of competition at every contest! Other members of the judging team include Jessica Miller, Michael Arceneaux, Caleb Russell, Bradley Womack, Kristina Bautista, and Hunter McAlister.
Alumni from last year's CSC team are finding great success at the next level too.  Conner Newsome, Kassadi Click, and Tanner Wieghat are all judging for Texas A&M University, winning both the National Western at Denver, CO and Houston's Intercollegiate contest.  Conner was High Individual Overall at Houston.  
For more information contact Head Coach Brandon Gunn at brandon.gunn@connorsstate.edu or (918) 463-6335