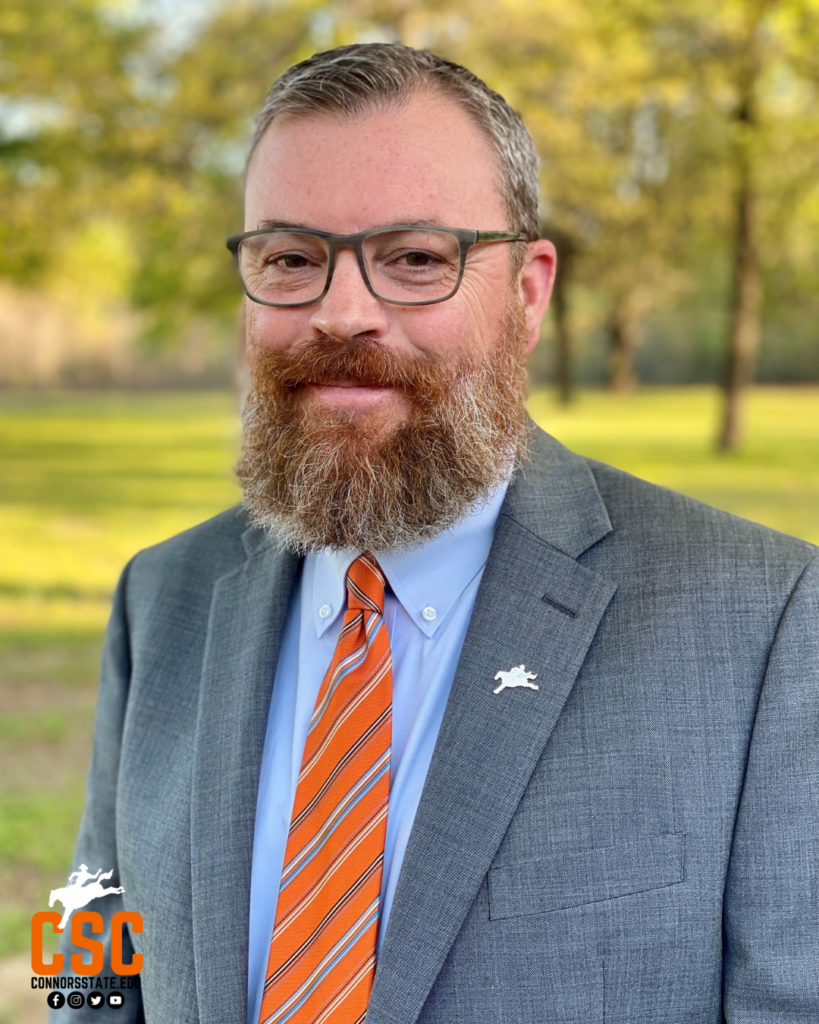 Warner, Okla. – Connors State College announces Mr. Chris McBeath as the institution's new Vice President of Academic Affairs. He will assume the role on July 1, 2023. The current Interim Vice President of Academic Affairs, Dr. Gregory Gardner, will aide McBeath in his transition before returning to retirement.
McBeath has two bachelor's degrees with the first being a Bachelor of Science in Business Administration and Management from Oklahoma State University in 2005, and the latter being a Bachelor of Arts in History, where he graduated Magna Cum Laude from Northeastern State University in 2012. Thereafter, he earned his Master of Arts in American Studies, also from Northeastern State. Continuing his education, McBeath is currently a doctoral candidate in Adult and Lifelong Learning at the University of Arkansas with an expected graduation date of May 2024.
McBeath began his career in education in 2013 as a Social Studies teacher at Quinton High School in Quinton, Oklahoma. While at Quinton, McBeath was recognized as the school's Teacher of the Year in 2016-2017. That same year, he worked with the Oklahoma Department of Education and its Growth Goal Development Team. There, he assisted the team in creating a collaborative model for a personalized professional development formula that emphasizes teacher improvement while driving educational excellence.
While finishing his Masters's Degree at NSU, he began teaching at the collegiate level as an adjunct history instructor at Eastern Oklahoma State College. After receiving his degree from NSU, he transitioned into the same role at Connors State. In 2018, McBeath began teaching full-time at CSC.
While at Connors, McBeath has served not only as an instructor, but later as the Division Chair for CSC's Social Sciences Division. McBeath has shown a commitment to the institution outside of the classroom as well, serving as the Faculty Advisor for the Student Government Association as well as serving on several committees. In 2021, he was recognized as the Connors State College Faculty of the Year.
"After an extensive search, we had a very strong applicant pool for this position and Mr. McBeath rose to the top. We are looking forward to his inclusion to the executive team," added CSC President Ronald Ramming.
Founded in 1908, Connors State College has a long history of providing the people of Eastern Oklahoma with access to higher education. Since seating its first class of 17, the institution has grown into a comprehensive, multi-campus, two-year college that enrolls more than 3,000 students annually. Faculty and advisors work with students to design customized success plans to help them graduate on time, find their passion and prepare for life. Connors State is a member of the NJCAA, where they compete in Region 2 as a Division 1 program for intercollegiate athletics. For more information, please visit www.connorsstate.edu or contact the Office of Admission, Recruitment, and Advisement at (918) 463-2931.
###